I'm SORRY I swore at you so robustly last night in my dream. But you should know that you
shouldn't eat your sisters entire batch of banana pancakes without asking
! Geez...have a little courtesy.
But then again, I can't fault you for wanting to eat my delicious buttermilk banana pancakes. They are quite good.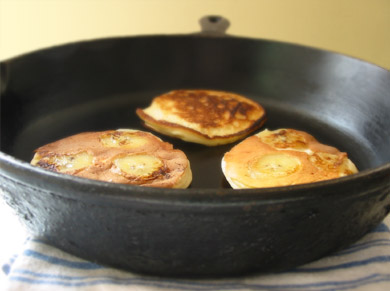 Buttermilk Bananacakes
2 c. flour
2 TBSP sugar
1 tsp baking soda
2 tsp baking powder
1 tsp salt
Mix together and add
:
2 eggs
2 c buttermilk
1/2 c milk
Stir
, just until moistened. Let sit for about
5 minutes
.
Cut up 2-3 bananas into nickle sized slices.
Pour pancake
in griddle to your desired size. After about 10 seconds, add
slices of banana, enough to cover the pancake
. Watch for air bubbles popping, flip and cook for another 30 seconds.
Spread with butter, jam, or fresh maple syrup and enjoy!